August 21, 2019
It's Back to School Time Again!   Are You Ready?        
Here are  Raising A Reader's Top 5 Tips to Kick-Start the New School Year and Get You Prepared for a Fresh Start:    
The  RAR Team  has a year full of meaningful webinars, OAN resources, trainings and special events to help support and motivate you along the way.   Read on for updates on our fall events!    
Happy Book Sharing,      
Your Raising A Reader Team
Affiliate Spotlight
El Concilio FAMILYWORKs in Stockton, California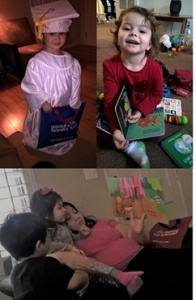 The Affiliate Spotlight this month is on El Concilio FAMILYWORKs located in Stockton, CA.   El Concilio FAMILYWORKs is the largest Latino, community-based nonprofit agency in the Central Valley with a mission to help people create better futures for themselves and their families, become leaders in the community and, in turn, empower others.   They offer many programs to support their mission including immigration services, preschool centers, adult education, family wellness, job readiness, and behavioral health.  Specifically, they are using Raising A Reader for their FAMILYWORKs Home visiting program, preschools, Home Visitation Initiative program as well as their Parents as Teacher Home visiting program. El Concilio FAMILYWORKs serves around 102 families in home visitations alone!
Main Coordinator Ofelia Torres says, "The impact the RAR program has brought to our families all over San Joaquin County is great. Before this program, our families did not have access to books or had, at most, one book in their homes due to the poverty they live in. They never knew the impact reading to their child (children) would make. Families have gone from never taking the time to read a book to their child to reading to them every night before bed. We have had families tell us without the RAR Red Book Bags they would still be without books in their homes. RAR has brought our families closer together with these bags, they say they now spend time with their children because of these book bags. Literacy is also a big part of language barriers, so many children are using more words because they had the RAR books to read.
"Most of our families are not English speaking or some may not even know how to read at all, so these books give them the opportunity to read books with no words and create their own stories together with their children which gives them opportunity for a conversation. We also serve families who have children with special needs so the fact they can have a book that fits right in with their child makes them feel more secure with reading the book."
We are glad that as part of their commitment to the families and children they serve, El Concilio FAMILYWORKs expanded its use of  RAR in more home visitation programs and classroom settings serving families from pregnant moms to children age 5. The photos they shared  of children and parents spending time with their Red Book Bags, Blue Library Bags and RAR books remind us of why we do what we do!   Thank you again,  El Concilio,  for sharing your Raising A Reader Story and the impact it is having in  your community.
From the RAR Bookshelf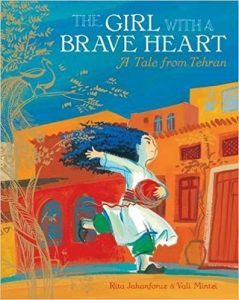 Each month Raising A Reader will feature one of the books in our collection to highlight what we offer in various genres. This month's feature is  The Girl with a Brave Heart: A Tale from Tehran  by Rita  Jahanforuz.
Shiraz's ball of wool has fallen from the balcony into the garden next door. How can she get it back? The wild old lady who lives next door is prepared to give it to her. But only if she does something in return. Will Shiraz listen with her head, or with her heart? Her encounter with the old lady teaches the lesson that when people are sad, they do not always know how to ask for what they need. This is a beautifully written story that should open the hearts and minds of children from many different cultures.    
Get this story and more in our 2019 Grade 1 English Refresher Set.
REGISTRATION NOW OPEN!
Read on to catch the Early Bird Special and learn how you can present at Institute!
2019 National Institute: 20 Years of Changing Children's Lives Through Literacy    
It's Coming! The 2019 National Coordinator Institute in Redwood City, CA, is happening this November! With speakers, panels, and networking that you can't afford to miss! Register now!
Date:  November 6-7, 2019
Theme:  20 Years of Changing Children's Lives Through Literacy  
Registration Fee: $100
Location:    Sobrato Center for Nonprofits
                                    Redwood Shores Shoreway Conference Room
                                    330 Twin Dolphin Drive, Suite 147 | Redwood City, California 94065
Early Bird Special! For every one registration from your organization, get the second registration HALF OFF! Early Bird Special open until September 20, 2019!
Click here to Register!
__________________________________________________
Request for Workshop Proposals  
The call for proposals for the Raising A Reader 2019 National Coordinator Institute is now open!  
We're calling on RAR Coordinators, Implementers, Affiliate Contacts or Strategic Partners to make their mark by presenting at Raising A Reader's 2019 National Coordinator Institute, November 6-7, in Redwood City, California.  
Selected presenters receive free registration and a travel stipend. Click  here  for details on proposal guidelines.    Click here  to submit your proposal.
Deadline for Submissions: August 30, 2019  
Programs Update
Want to Raise Smart, Kind Kids? Science Says Do This Every Day    
A Blog  By  Kelly Holmes  
We came across this  mom blogger  and really  believe  the information in this article will resonate with  you.   Many of our Affiliates ask how they can convey this information to parents and this blogger lays it out  in a simple (relatable) fashion.  
"As parents, we have  big dreams  for our kids.  We want them to be smart so they can go after what they want in life and have a reasonable chance of getting it. We want them to grow up to be kind, caring members of the community. And it would be nice if they also turned out to be the type of people who remember to signal before turns.
That's a tall order.  Especially  when I consider the day a success if I remember to brush all my kids' teeth twice a day.  And yet, now is the time to set our kids up for success in life. Short of morphing into a drill sergeant who fills every spare moment with flashcards and forced kindness, how can we raise smart and kind kids?"  
Read the rest of  Kelly's Blog  here.        
Training
National Coordinator Training Dates    
Have you signed up yet? For new Coordinators, or those who desire a refresher, Raising A Reader is conducting a Coordinator Bootcamp (one-day intensive training) on November 5 in conjunction with RAR's National Institute.
If you plan to attend the 2019 National Institute in November, take advantage of this one-day intensive Coordinator Training, Tuesday, November 5.  Register here.  
Upcoming  Webinars
Fall Webinar  –  September 26
Partnering with Schools & Programs, and Building Relationships with Students
Join us Thursday, September 26, when Program Manager Rebecca Schmidt, with the Oakland Literacy Coalition, will share her expertise as well as resources on the importance for students to have loving and caring adults in their lives and different ways to connect with and build strong relationships with students.
Winter Webinar – November 21
(Subject to be determined)
Missed any of our webinars this past year?   Visit our  GoToStage  platform to access the past two years of webinars RAR has hosted, both in programming and business development. Find the link  here.    
For more information, contact us at rarinquiry@raisingareader.org.
Business Behind the Books
Reset and Refresh!
Can you believe school is just around the corner and where did our summer go?   This of course means that it's time to look at your inventory sheets to see what materials you may need to ensure staff and children,  along with their families,  have all the bags, books, and other materials they need to start the school year off on the right foot. Planning is key!   For instance, missing a couple of Red Bags and books from a classroom?   Ordering a Refresher Set is often the most economical and strategic purchase to make – each Refresher Set comes with one Red Book Bag with tag and five books that are NOT included in any of our Foundation or Supplemental book sets. This ensures that there will not be duplicate book titles and saves you time from having to determine which exact book went missing during the year.      
Are you using the same set of books with your children again this year? Excite kids all over again by adding our STEM Book collection (which includes bookplates inside each cover to help caregivers understand the STEM concepts they can share with their child as they read) or include some of our Special Language collections to add a multicultural element to your classroom.   We offer Arabic, Burmese, Japanese, Nepali, Vietnamese, French, Chinese, Portuguese, and Somali bilingual books where children can experience the "window" of experiencing a different culture through content and visual stimulation. Children LOVE seeing words and different alphabets from around the world and it provides a great opportunity to provide inclusion activities in your curriculum.   If you have social studies or multicultural initiatives in your school plan this would be a great way to meet those benchmarks while at the same time developing a child's intrinsic motivation to love reading.    
If you are interested in hearing more about these books,  or any of our collections,  and would like a sample book prior to ordering or would like a quote, please reach out to Heather Deno at hdeno@raisingareader.org for more details.   The biggest preparation you can make for Fall  classes is placing your orders in the next few weeks – if you plan on implementing the RAR program at the end of September/beginning of October, it is critical that you place orders by the end of August to ensure that you receive your materials on time as September is one of the busiest months of the year for our RAR warehouse team!