July 9, 2019
Summer is here!  
Your Raising A Reader National Office Team  
Affiliate Spotlight
Buffalo Families Enjoy Reading Picnic!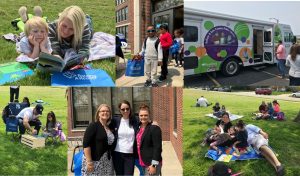 North Park Community School, in Buffalo, NY, held its Blue Bag celebration Friday, May 31. This culmination event invited parents to have a reading picnic with their children followed by the decoration of wooden crates for each family to keep as a container for their home libraries. Almost 100 percent of families participated in the event which was also attended by Raising A Reader's Assistant VP of Programs, Rebecca Armstrong, and local dignitaries. The celebration was a huge success and clearly  reflected the energy of the staff.
---
Please submit your great stories that illustrate the impact  you are  making in your community.  Please  go to  our website  for more  information  and to  submit  your Great Story today!  
2019 National Coordinator Institute
Save The Date  
Raising A Reader is pleased to host the 2019 National Coordinator Institute in Redwood City, CA,  this November! The National office staff is working hard to bring you two events full of information and networking that you can't afford to miss!

Theme:      20 Years of Changing Children's Lives Through Literacy  
Date:          November 6-7, 2019
Location:   Sobrato Center for Nonprofits in Redwood Shores  
                                 330 Twin Dolphin Drive, Suite 147  | Redwood City, California 94065
Registration  information  and agenda coming soon.  

---
New Coordinator Training
This training is specifically designed for program coordinators and is appropriate for coordinators from new  Affiliates,  new  coordinators from established  Affiliates who have recently taken on the coordinator responsibilities, as well as any previously trained  coordinator who feels that he/she would benefit from a refresher!
Date:  November 5, 2019
Time: 9:00am – 4:00pm
To register for the New Coordinator Training, click  here.
For more information regarding training, click  here.  
If you have any additional questions, please contact  Tymisha  Sweet at  tsweet@raisingareader.org.  
Summer Webinar
Best Practices  
We are pleased to announce the  2019  Summer Webinar:  Raising A  Reader Best Practices.  Please join us  as we share  best practices  from you, the Affiliate Network, on how  to successfully implement key components of the Raising A Reader program.  To submit specific questions or areas you would like  considered for inclusion in the webinar, or if you have an example you'd like to share, please email  Tymisha  Sweet (tsweet@raisingareader.org) by Monday, June 17, 2019.  
To register for the webinar, please click  here.      
This webinar is open to anyone at your organization who supports and assists in the implementation of the RAR program.  
Date: Thursday, June 20, 2019
Time: 11:00am – 12:00pm Pacific Time
12:00pm MT/ 1:00pm CT/ 2:00pm ET  
Job Openings
Raising A Reader's National Office seeks talented professionals committed to realizing the organization's vision.   We are hiring for 4 new positions at our California office: Affiliate Growth and Development Manager, Development Director, Special Projects Manager and Admin/ Projects Associate (temporary). Click  here  to view all job posting details and to apply.  
Use It or Lose It
If our organizational fiscal year comes to a close on June 30th, be sure to review all buckets of funding in your budget to see if there is additional funding that can be used for your RAR program. Even  if you recently "refreshed," with excess funds you can amp up your inventory of materials. Blue Library Bags and books never expire!  Remember, you can use Title I, II, III, IV, and IX dollars towards RAR materials, as well as any funding earmarked for family engagement programming (2st Century funds, Promise Neighborhood, Community Schools, etc.).  Also, purchasing STEM or Financial Literacy collections may count towards STEM and Math initiatives.  
Also, are your Red Bags well-loved and need replacing?   You can custom order replacement bags at $7 each. Just call Marie Waldron or Heather Deno for a quote and help placing your order!  
June Special Offers
In celebration of the end of the program year for many of our Affiliates, RAR has three Special Offers to share with you!  During the month of June, Raising A Reader is offering "Raising Riches" on all orders!  
For orders totaling more than $1,000 (excluding tax/shipping) receive your choice of 100 Cricket Media booklets (BabyBug/Click/LadyBug  -Use Coupon Code  June19Special  during check out)
For orders totaling $2,000 to $4,999 (excluding tax/shipping) receive your 100 free Cricket Media booklets PLUS 5% credit (Raising Riches) towards a future purchase made between July 1 and September 30th, 2019!  
For orders totaling more than $5,000 (excluding tax/shipping) receive your choice of 100 FREE Cricket Media booklets PLUS 10% credit (Raising Riches) towards a future purchase made between July 1 and September 30th, 2019!
"Raising Riches" coupons will be delivered the first week of July and expire September 30th. Orders not eligible for "Raising Riches" include orders purchased with grant funds given by or processed through Raising A Reader. Maximum "Raising Riches" credit that can be earned is $1,000 and must be redeemed by September 30th, 2019.   "Raising Riches" credit does not cover applicable shipping charges or sales tax. All other eligible orders placed during the month of June qualify for "Raising Riches" Credit.
Limited Time Offer
A HUGE "Thank You," to over 100 Affiliates that participated in the Pocket Chart Survey! Your input has been received and will support the redesign on RAR's Pocket Charts.
RAR will be discontinuing the XL Pocket Charts (35 Pockets), and as an additional "thank you", we are lowering the price from $57 to only $30! Hurry and get yours today before they are gone!