August 21, 2018
It's  Back-to-School season  and we hope that you are gearing up for another great year of Raising A Reader programming! The Raising A Reader team is here to help you prepare for a successful year of program implementation with new book collections, fundraising opportunities, training, and professional development.
We'd love to see how your Raising A Reader program is starting back up again! Please submit your stories, photos or resources to rarinquiry@raisingareader.org at any time!
Don't forget to check out the  Local Funding Opportunities  section  to  learn more about  applying for grants to sustain your program.  Finally, make sure to  like, comment, and subscribe to Raising A Reader  on Facebook, Instagram, and LinkedIn.
Affiliate Spotlight

Congratulations to the Early Learning Coalition of Duval County, Florida for being highlighted as a "promising practice" in family engagement programming from Child Care Aware of America.   Child Care of America features a  Family and Community Engagement: Promising Practices Spotlight Series  which  illuminates some of the successful ways early childhood programs are connecting with families and communities through high-quality engagement initiatives. Click here to see how this Affiliate connects the dots with Raising A Reader and Parent Café's.  
New Training Ideas:

"Back to School" means different things for different people, but for everyone it is a busy time.  At Raising A Reader, it's time for us to reach out and help our  Affiliates begin the school year with a fresh start.  One of the elements of a well-run program is a  fully trained  Implementer  team.  It's important to  hold training  at the beginning of each year to refresh returning  Implementers, and to train any new additions to your staff.  We also recommend having at least one more  Implementer  refresher training during the year. 

The  Online Affiliate Network  has several tools to help you with these endeavors:  
Mini- Grant Application  

 

Kick-Off and Refresher Orientation Presentation

 

Implementer  Kick-Off Starter Kit  

 

Implementer Survey

 
In addition to the Implementer training resources,  you'll find lots of workshop  activities and  ideas to  help support parents and caregivers in their home-based literacy routines:  
Family Introduction Letter

 

Wordless Book Activity

 

Brain Yarn Activity

 

Red Bag Reading Tips  

 

Family Reading Bookmarks  

 
As the coordinator, you lay the foundation for a successful program.  By teaching implementation techniques and encouraging  Implementers to deliver a quality program week after week, you help parents and children gain the most benefit from Raising A Reader!    
Congratulations to our August 2018 Cohort of Raising A Reader Coordinators!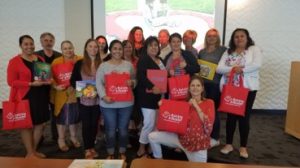 Redwood City, CA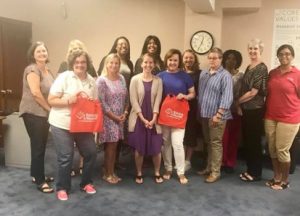 Raleigh, NC
The first week of August, the National Office was excited to host Coordinator Trainings in  Redwood City, CA and  Raleigh, NC.
We love meeting new people who are passionate about bringing the Raising A Reader Program into their communities and helping us affect positive change by furthering our mission to help families with children ages 0-8 develop, practice, and maintain the  home based  literacy skills needed for school and life success!   
Special Thank You!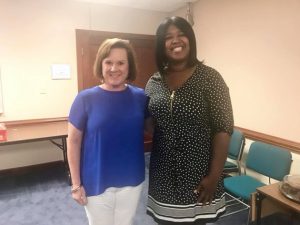 Thank you to Ms. LaTonya Brown for presenting at NC training. We are grateful for the time and effort you took to share your thoughts and experiences with the Raising A Reader program. Your presentation gave us a close look from a Coordinators perspective on implementing Raising A Reader which was  really helpful  to new Coordinators.   We are pleased to have your participation and we thank you for your valuable contribution.
Tyla Hill, Pickens County First Steps
Latonya Brown, Bladen Smart Start
Live Coordinator Training
Online Coordinator Training
Click/Ladybug Magazines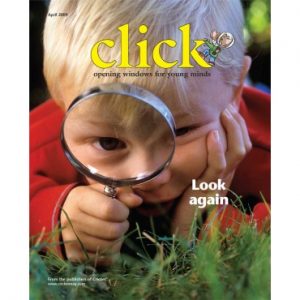 Interested in materials you can distribute to children during your Fall and holiday breaks, used as "out-of-school-time" activities, or given away during Blue Bag Events? Click, LadyBug and BabyBug booklets are wonderful reading material that children can keep and share with families and caregivers. Several titles align with many popular PreK curriculum programs.
Click Booklets are STEM themed and appropriate for ages 3-6, LadyBug booklets are appropriate for ages 3-6 as well but more focused on storytelling and activities, and BabyBug booklets are appropriate for ages 0-2. LadyBug and BabyBug booklets are also available in Spanish. Cricket Media retails these items for $6.95 each, but with a special offering through Raising a Reader, you can purchase 100 booklets for $75. Reach out to Heather Deno at  hdeno@raisingareader.org, Director of Business Development and Brand, for more information or to request a sample of the booklet you are interested in. You can also purchase these items directly on the Raising A Reader order site HERE.
Welcome to the Newest Organizations to our Affiliate Network:
Baldwin Park  USD  (CA)  
Barnwell County First Steps  (SC)  
DCMO-BOCES (NY)    
Frederick County Public Schools (MD)  
Kent County Public Schools (MD)  
Mountain View School District (CA)    
Oklahoma City Public Schools (OK)    
Opportunity Academy Hartford  (CT)    
OUSD – La  Escuelita  Elementary  School    
OUSD_ Esperanza Elementary (CA)    
PUSD – Valley View Elementary School (CA)
St. Francis Community Center   (NJ)