April 09, 2019
Happy April!
Here at Raising A Reader, we are buzzing with excitement as we receive "Great Stories" from our Affiliates each day in celebration of our 20th  Anniversary. There is still time left to submit your "Great Story" about how Raising A Reader has impacted a child, family, organization or even you. Click here to learn more about how to submit your story. In addition to our call for Great Stories, we are excited to release our 2019 Refresher collection on April 15  and announce our presence at the 2019 National Smart Start Conference. Keep reading to see what the "buzz" is all about!
Affiliate Spotlight
Monterey Bay Area Networking Group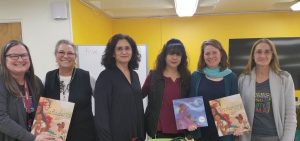 Have you ever wondered about the other RAR Affiliates in your area and how they might be implementing their RAR program?   How do others conduct their parent training?   What resources have they developed over the years to improve their evaluation results?   In the Monterey Bay area of California, five Affiliates created a networking group to connect and share best practices.   Collectively, this mighty team serves over 7,000 children in various settings including libraries, home day cares, school classrooms and Head Starts.   They held their first meeting in March at the Salinas Public Library where they got to know each other and identified topics of shared interest.   They also set the agenda and date for their next meeting in May!
If you would like to create a similar group in your area, reach out to the National Office and we can help you identify the Affiliates nearest you. Even if it's not possible to meet in person, a virtual meeting is still a great opportunity to connect, share, and learn from others. With over 300 Affiliates, you are not alone!   Let us help you connect!
MEET & GREET
2019 National Smart Start Conference
The Raising A Reader team is excited to attend the 2019 National Smart Start Conference in Greensboro, North Carolina on May 1-2.   This year, RAR will facilitate a workshop, Moving Beyond Family Involvement to Support Children's Literacy Success.   This workshop will focus on how we can move beyond providing facts and "should" messages to helping to fundamentally shape family literacy behaviors.
After the workshop, join the RAR team, fellow RAR Coordinators, and Affiliates at our "Meet & Greet" on May 1 from 5:15-7:15 PM in the Heritage Room at the Sheraton Greensboro. You do not have to be registered for the conference to join this after-hours event! We look forward to seeing you there!
Refresher Sets
2019 Refresher Preview

It's that time of year!   Raising A Reader is excited to release the 2019 Refresher Collections on Monday, April 15! Over 90 new titles have been hand-selected for 18 Refresher Collections, spanning ages 0-8.  Want to know more? Join us for a sneak peek of the beautiful titles included in this year's collection via webinar on April 15  at 9:00 AM PST/12:00 PM EST. Click here to register!
Business Development Webinar
Engaging Families through Head Start/Early Head Start
Our mission is to help families create, practice and maintain home literacy habits essential for school success through community engagement and parent empowerment. This one hour webinar will provide a general overview of the program, how the model works and is aligned with Head Start/EHS programs, and the steps involved in bringing RAR to your community/agency/school/organization.  There will be a Q&A session at the end of the webinar.  If you cannot attend the live webinar, Thursday, Apr 18, 9-10 AM PDT, 12-1 PM EDT, please register to attend anyway and a link to the recording will be sent to you.
Click here to Register!
Funding
PNC Expands Early Education Program to $500 Million
PNC Financial Services Group has announced a commitment of $150 million to expand its  PNC Grow Up Great  early education program. Announced in conjunction with the program's fifteenth anniversary, the commitment brings PNC's support for the initiative to $500 million. In addition to increasing the funding for the program, PNC is launching a Great Big Book Drive through which customers and others are invited to donate books to the program through April 30. All donated books will be distributed to early learning organizations in PNC's forty markets.
The commitment also includes a $5 million grant from the  PNC Foundation  to  DonorsChoose.org   to help preschool teachers obtain high-quality resources and learning experiences for their students. In addition, through May 31, the foundation will match, dollar-for-dollar, donations in support of pre-K and Head Start teachers' project requests on the DonorsChoose site, and will provide $25 gift cards to PNC employees that can be used to support a DonorsChoose project of their choice.
In Person Coordinator Training
Online Coordinator Training
Welcome to our New Affiliates!
Antioch, CA
Antioch Unified School District
Red Bluff, CA
Tehama County Office of Education